Product Name:
Screwdriver Bit
Tip:
Phillips, Slotted, Torx, Hex, Triangle Bit
Surface Treatment:
Sandblast, Plating, Chrome, Nickle
Function1:
Magnetized Security Screwdriver
Screw Driver Head:
Double Head, Magnetic, Non-Magn
Application:
Industrial Manufacturing Industry
Screw Driver Bits
1.This batch of head using S2 high quality steel .From inside to outside are the same.Good material does not need to make the surface decoration through
2. It is safe anti-slip line and ergonomic handle for comfortable operate3. Flat-type screw drive (standard slotted screw driver) and Phillips-type screw driver are available.4. Non-magnitic or magnetic are available with standard size.
5.Exquisite workmanship, each edge can be accurately locked screws, no damage to the screw,and the screwdriver head.
Strong magnetic,can suck the screws easily when used it.
6.Can be used for manual electric screwdriver, screwdriver, drill, air and other tools.
7.Professional multi size package, hexagonal handle on the edge of 6.35mm.
8.Use different sizes to screw,will damage screwdriver and the screw! Using the correct screwdriver bar,pay the less effort, and can easily unscrew the screws!
Material: S2 Steel
Screwdriver shank diameter:Φ4,Φ5,Φ6,S1/4"(H6.35),H5,H6
Type of head: Cross/Phillips/Torx/Hexagon/Square/Triangle
Phillips(PH):PH000,PH00,PH0,PH1,PH2,PH3,PH4
Slotted(SL) size:3,4,5,6
Torx(T):T3,T4,T5,T6,T8 and so on
Hexagon(H):H1.5,H2,H3,H4,H5



 
Phillips Screwdriver Bit Size

5*60*1.6*20*00#
5*60*1.6*20*0#
5*60*2.0*20*0#
5*60*2.5*30*0#
5*60*2.5*30*1#
5*60*3.0*30*1#
5*60*3.5*30*1#
5*60*4.0*30*1#
5*60*4.0*30*2#
5*60*1#Â Â  Â 
5*60*2# Â 

material

S2 industrial steel

Type

Classic screwdriver bits

Hardness

HRC 60°+/-1°

Surface treatment

Phosphated black,Gun color, Plating, Bronze, Pearl nickel,Matt, Sandblast, Titanium Gold

Head

Phillips, slotted, Torx, Hex, square, customise

Length

40mm,50mm,60mm,100mm,110mm,120mm,150mm,customise

Retail Packing

Blister card/ Patent bracket provided by HORN/ double blister/ customize

Quality control

100% whole range inspection through the production

Type




single head, double head, head with round neck, skidproof screwdriver bit


 

Payment terms

T/T,L/C, Credit card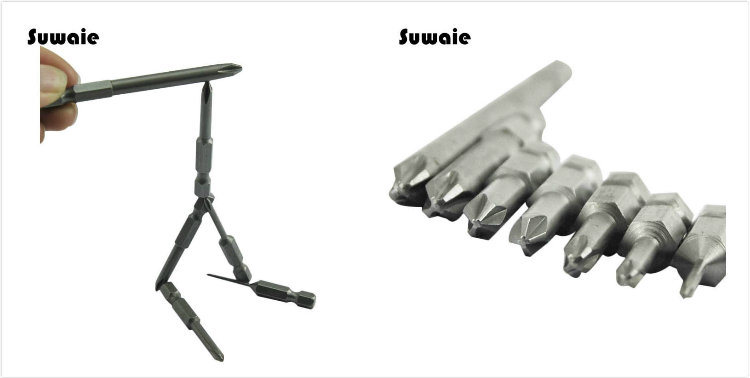 It made of high-strength S2 steel, very durable.
Toughness is good, hard to rupture and wearproof.
Magnetic bits, in the installation can easily absorb screws
Suitable for installation in pneumatic screwdrivers, electric screwdriver, rechargeable drill, using the wind batch.
Widely used power tools, electric screwdriver assembly, electronics industry, household appliances, precision instruments industry, furniture industry screw equipment.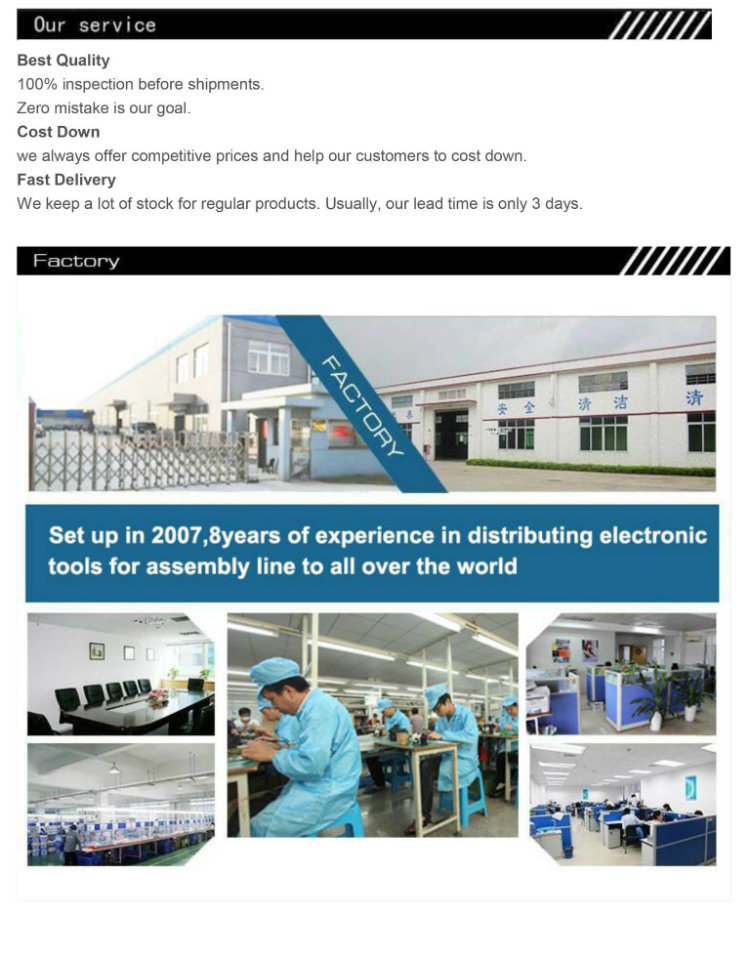 Weihao Hardware Wire Mesh Products Co., Ltd. , http://www.hsbarbedwire.com