Scientists at Northwestern University have developed environmentally friendly perovskite solar cells that use tin perovskite instead of lead (poisonous) perovskite as a device for capturing sunlight. The new type of solar cell is not only green, high-efficiency and low-cost, but can be manufactured using a simple "test bench" chemistry without the need for expensive equipment or hazardous materials. The study was published in the journal Nature Photonics published May 5 (Beijing time).
One of the leaders of the study, inorganic chemistry expert Mekri Karnatdis, said in an interview with the Physicist Organization Network on May 4th: "This is a major breakthrough in the development of new types of solar cells. Tin is a Very practical material."
The perovskite, which has a unique crystal structure, is a ceramic oxide. The earliest discovered such oxides are calcium titanate (CaTiO3) compounds present in perovskite. Traditional silicon solar panels are expensive due to the raw materials of silica and cause serious pollution in the manufacturing process. Academics and industry have turned to research and development of perovskite solar panels in recent years. As a result, the photoelectric conversion efficiency has increased from 3% to 16% within two years, resulting in significant scientific research. Breakthroughs, perovskite solar cells are also known as the "star of tomorrow" in the field of solar cells.
New solar cells also use perovskite structures as light-absorbing materials, but tin is used instead of lead. According to scientists, the lead-transport perovskite has a photoelectric conversion efficiency of 15%, and tin and perovskite should be able to reach or even exceed this value given that tin and lead are elements of the same family. Zhang Bangheng, another head of the study, a professor of materials science and engineering, said: "Our tin-based perovskite layer works like an efficient solar light trap."
Although the photoelectric conversion efficiency of this solid-state tin solar cell is currently only 5.73%, they think this is a very good start. The researchers stated that tin perovskite has two characteristics: it can absorb visible light in the solar spectrum to the maximum extent; it can be directly melted without heating.
The new solid-state solar cell is a "sandwich" composed of five layers of materials, each of which has a unique role. The first layer of conductive glass allows sunlight to enter the cell; the second layer is titanium dioxide deposited on top of the glass layer. These two layers together serve as conductive contacts on the front of the solar cell; the next is the new solar cell. "Protagonist" tin perovskite, the main role of this layer is to capture sunlight. The researchers produced this material in a nitrogen-filled glove box. The purpose of the bench chemistry was to protect the environment and avoid oxidation of the tin perovskite.
Above the tin perovskite is a hole transport layer. This layer is crucial for shutting off the current and obtaining a functional battery. The main material is a pyridine (six-membered heterocyclic compound containing a nitrogen heteroatom) molecule. . The final shaft is a thin layer of gold. The final packaged solar cell is about 1 to 2 microns thick and can hold air. The test shows that its photoelectric conversion efficiency is 5.73%.
Since the formation of the Earth, the sun has used its light and heat to provide a steady flow of energy to humanity. With the continuous advancement of technological means, the way of obtaining solar energy is also constantly developing. As a new type of renewable energy, solar cells have struggled with high costs and low conversion efficiency since their birth. The new solar cells made of tin-perovskite as a new material show advantages in environmental protection and cost reduction, but we also expect researchers to continue to break through the efficiency of photoelectric conversion and bring us true green, efficient and cheap solar energy. battery. (Reporter Liu Xia)
Plastic Drag Chain (Plastic Cable Drag Chain) can be used as a component or service parts in glass machinery, handing and transport machinery, painting and decoration equipment, shoe-making machinery, chemical machinery, textile machinery, welding machines, automatic welding system, plastic machinery etc.
After a series of tests, we arrived at the same conclusion that our plastic drag chain (plastic cable drag chain) can withstand about 15 million movements. The quality of our plastic drag chain (plastic Cable Drag Chain) is guaranteed.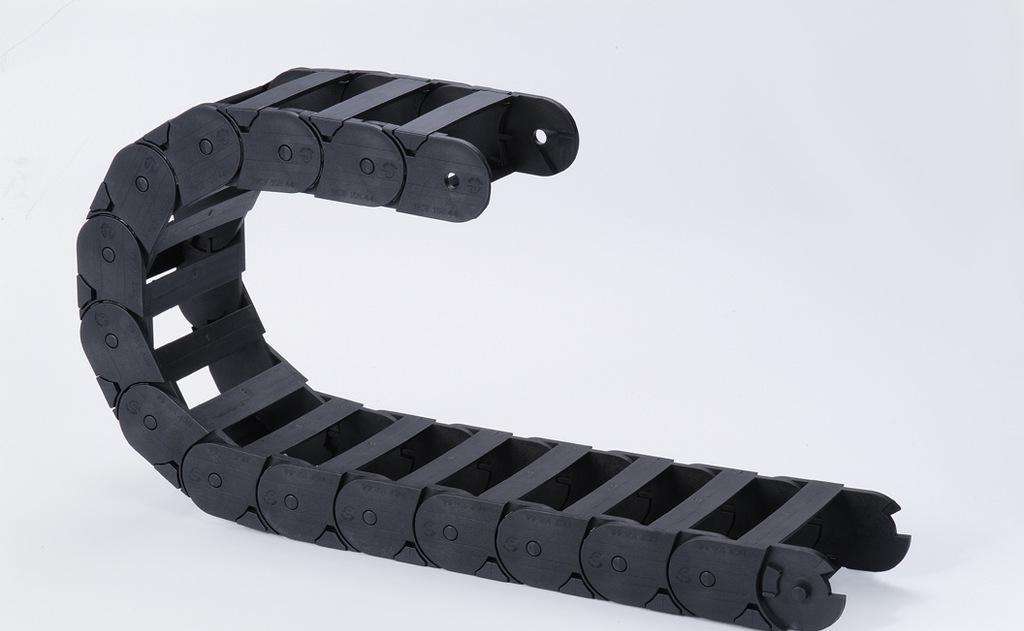 1. XDTLF20 Series Plastic Drag Chain (XDTLF20 Series Plastic Cable Drag Chain)
Provide the parameters: Quantity (pc.), length of the chain, width of the chain, bending radius, height of the chain
Inside Diameter

(height*width)

(mm)

Outside Diameter

(height*width)

(mm)

Bending radius

(mm)

Pitch

(mm)

Non-support length

(mm)

Type

Width of the chain

(mm)

20*25

35*42

50/

65/

75/

100/

125

50

3.5

4 piece

Bridge type/

Totally

enclosed

25

20*38

35*55

38

20*50

35*65

50

20*57

35*74

57

20*70

35*85

70

20*75

35*90

75

20*100

35*115

100
2. XDTL07 Series Plastic Cable Drag Chain
Inside Diameter

(height*width)

(mm)

Outside Diameter

(height*width)

(mm)

Bending radius

(mm)

type

The distance between holes

7*7

10*12.5

18/28/38

Can`t be open

A=8
3. XDTL10 Series Plastic Cable Drag Chain
Inside Diameter

(height*width)

(mm)

Outside Diameter

(height*width)

(mm)

Bending radius

(mm)

type

The distance between holes

15*6

13.5*13.5

18/

28/

38

Can be open

A=8

15*10

14*17.5

Can`t be open

A=8

15*15

15.5*23

Can`t be open

A=10

15*20

15.5*28.5

Can`t be open

A=10
4. XDTL15 Series Plastic Cable Drag Chain
Inside Diameter

(height*width)

(mm)

Outside Diameter

(height*width)

(mm)

Bending radius

(mm)

type

The distance between holes

15*20

20*28.2

18/

28/

38

Can`t be open

A=11

15*30

20*38.2

A=14

15*40

20*48.2

B=20

15*50

20*58.2

B=20
5. XDTL18 Series Plastic Cable Drag Chain
Inside Diameter

(height*width)

(mm)

Outside Diameter

(height*width)

(mm)

Bending radius

(mm)

type

The distance between holes

18*18

23.5*28

28/

38/

48/

75/

100

semi-closed

with the lower cover openable

A=4, A2=9.5

18*25

23.5*35

A3=19.2 B3=10,

A4=25

B4=10

18*37

23.5*47

A3=29

B3=11,

A4=25

B4=11

18*50

23.5*60

A3=34.8

B3=7.5,

A4=34.8

B4=7.5
6. XDTL25 Series Plastic Cable Drag Chain
Inside Diameter

(height*width)

(mm)

Outside Diameter

(height*width)

(mm)

Bending radius

(mm)

pitch

Non-support

Length(mm)

Type

25*25

40*44

55/

75/

100/

125/

150

44

2000

Bridge type.

fully closed,

Opening upper and lower cover

25*38

40*57

25*50

40*69

25*57

40*76

25*75

40*95

25*103

40*122
Plastic Cable Drag Chain
Plastic Cable Drag Chain,Closed Type Cable Drag Chain,Wire Tracks Cable Drag Chain,Engineering Cable Drag Chain,Open Both Side Drag Chain
HEBEI HANMAC MACHINE CO., LTD. , https://www.chinahanmac.com